There I am, busy with other things, when this level 69 ranger in level_1-9 asks for the sootfoot magma gloves. I wait to see if anyone else is going to help him, because I'd rather continue what I am working on, but no luck there it seems. So I send him a tell. He asks if I can make the chestpiece too and offers me two plat, I was going to do it for way less but I'm not complaining.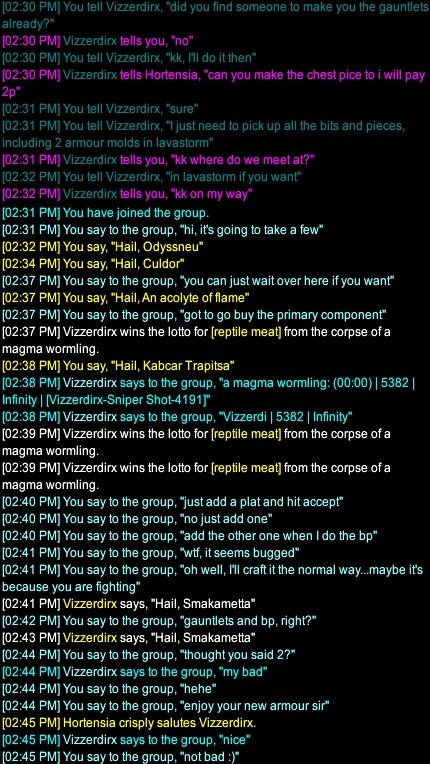 He says he wants a new mount, so I suggest getting the Sootfoot Lavacow since it'll match his armour. He offers me up to 7 plat in the end to run him through the questline, but I really don't feel like spending all that time dragging him around for a relatively easy but time consuming questline when I have other things I ought to be doing.

So I say no to his plats, and just show him where the questline starts.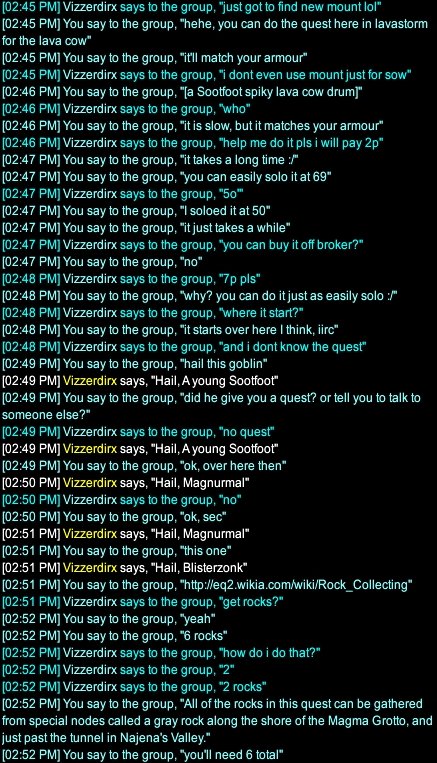 I give him the link to the quest he is on, and call back to Freeport to continue my work.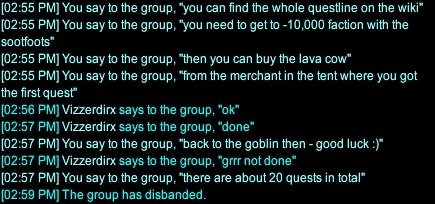 A few minutes later though, the tells start coming in. I guess finding the information you need on the wiki can be quite difficult huh, I linked him the quest he was currently on but finding the link to the next quest in the series was obviously too hard.

So, being a loyal and helpful citizen of the fair city of Freeport, I explain how to get to the mobs he needs...and where to find the next quest NPCs.

More problems though, it turns out he doesn't craft...so again, I offer to help him out.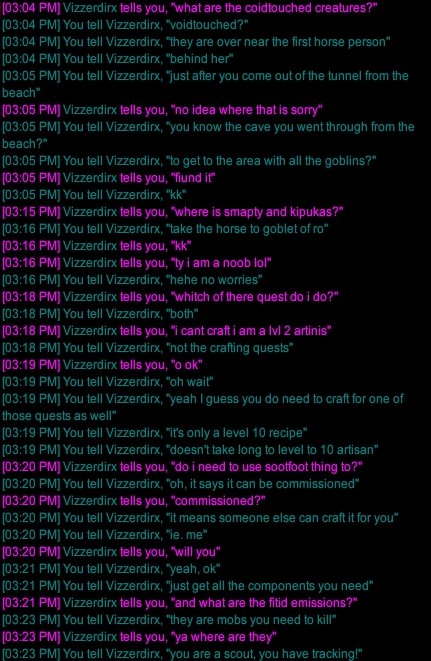 My patience is beginning to wear thin at this point, since the mobs he is asking for this time are damn near on top of the NPC that just gave him the quest.

Did they take away tracking from rangers in the last game update?

He invites me back to the group. I figure it's best to paste the info about where all the things he needs for this crafting quest are, to save us both some time. No luck there though, I have to repeat myself again since he obviously didn't read what I wrote the first time.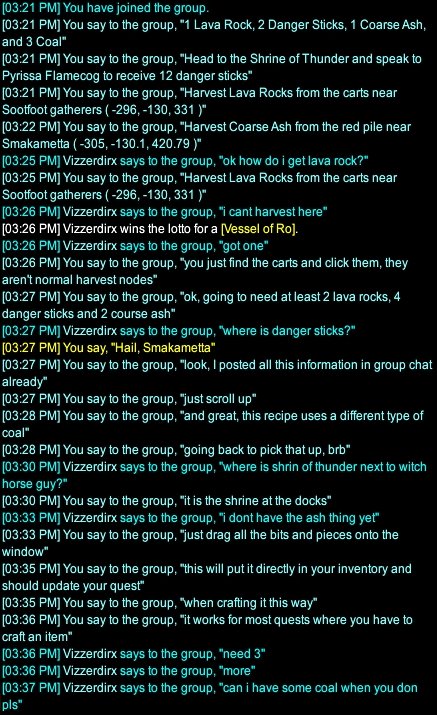 Don't ask me what he needs 10 coal for, hopefully he's thinking of taking up crafting so I won't have to commission craft for him anymore.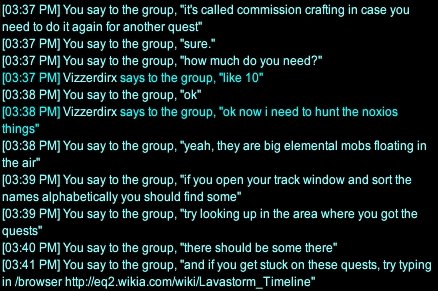 A subtle hint about tracking there, and a reminder that eq2.wikia.com is very nice if you get stuck on a quest. Maybe this time it will sink in?

I call back to freeport again, hoping to continue what I was working on.
No such luck.

I give him the URL for the timeline, and he "tipes" it in but it doesn't work! How convenient, that means he can keep bugging me instead.

But hang on a minute, wasn't this the same guy who was pasting act parses in screenshot 1? So he can figure out how to get ACT to work but can't get a webpage to load?

I try to stay calm

and offer some solutions before wishing him good luck, since I don't really feel like looking up stuff for him every 3 minutes until the end of time.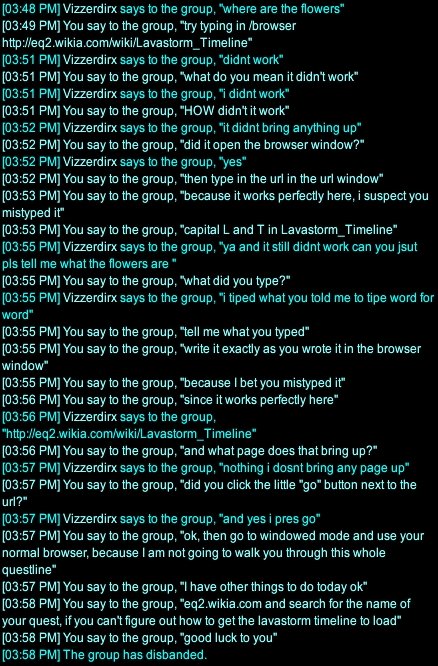 And that, I hoped, would be the end of it. But no. He sends me yet another tell.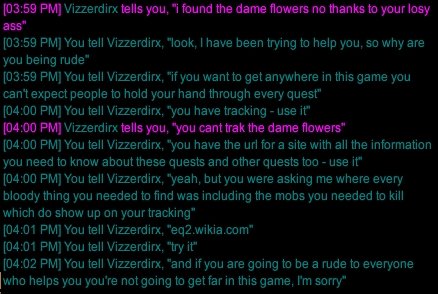 So there you have it. of Everfrost, how he ever made it to level 69 I have no idea. Even worse, there is a , a ,and a as well as some smaller alts on the same account. If those belong to him too, it's further proof that leveling in this game has become way too easy.

Oh, and Peachie, he was a frog, which I'm sure comes as no surprise to you.