Actually, not so much fortune...though they did send me a free copy of the mag! I was the featured artist in the latest issue of the Norwegian magazine
Pegasus
, they write about fantasy, sci-fi, computers, movies, comics, RPGs, miniatures and so on - click image for a larger version: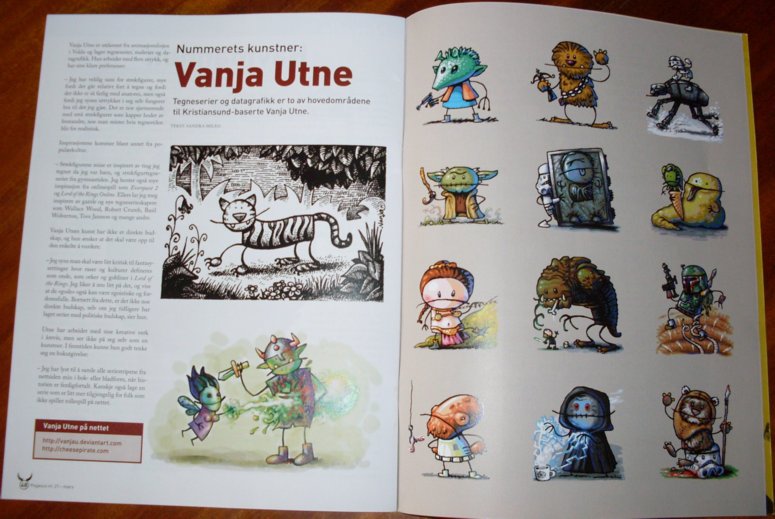 This is what it says, more or less:
Quote:
This issue's artist: Vanja Utne

Comics and computer graphics are two of the main artistic fields for Kristiansund-based Vanja Utne.

By: Sandra Mileo (quick and dirty translation by Vanja with some additions in parentheses)

Vanja Utne studied animation at Volda College and makes comics, paintings and computer graphics. She works with several expressions, and has her clear preferences:

- I am very fond of stick figures, primarily because they are relatively fast to draw and because anatomy isn't a big deal, but also because I think the form itself works well for what I do. There is something charming about little stick figures cutting each others heads off, which is lost if the style of drawing is too realistic.

Inspiration comes, among other sources, from popular culture:

- My stick figures are inspired by things I drew when I was a child and stick figure comics from high school. I also get a lot of inspiration from online games like EverQuest 2 and Lord of the Rings Online. Additionally, I'm inspired by old and new comic book authors like Wallace Wood, Robert Crumb, Basil Wolverton, Tove Jansson and many others.

Vanja Utne's art does not have a direct (political) message, she would like it to be up to the individual viewer to decide:

- (If I have a theme, I guess it is this:) I do think that one ought to be a little bit critical of fantasy settings where races and cultures are defined as evil, like with orcs and goblins in Lord of the Rings. I like to turn it the other way round, and show that the "good" may be selfish and prejudiced (and what is seen as evil might not always be). Apart from this, there is no direct (political) message, although I have previously made comics with political messages, she says.

Utne has been working on her creative works for years, but does not see herself as an artist. At some point in the future, she'd like to have a book published:

- I would like to collect all the comic strips from my website in book or magazine form, when the story is completed. Maybe even create a (new) comic that is a bit more accessible to people who do not play online RPGs.